Comtetition 2012
31-01-2012
Unfortunately uploading new movies is at the moment not possible. More informations will follow.
The winners 2011
17-11-2011
The anniversary prizegiving ceremony was a big success. Visitors were able to witness how and why the jury determined the winners from the nominated entries. Additionally, the audience was able to award its favourite entries too. Prizes worth a total of 10'000 CHF were awarded to the following winners - congratulations!

5 Second Category:
1. Place: "melting jet", Stefan Hänni
2. Place: "Schnarchen", Nils Hedinger
3. Place: "Fliege", Renee Del Missier
Audience Award: "Ein Augenblick", Jonathan Laskar

10 Second Category:
1. Place: «Geblockt», Michèle Ettlin
2. Place: «Thaumatrop», Kaspar Flückiger
3. Place: «How to brush your teeth», Mischa Hedinger
Audience Award: «Thaumatrop», Kaspar Flückiger

20 Second Category:
1. Place: «houses of love», Jürgen Haas
2. Place: «eco_strip», Jürgen Haas
3. Place: «Today» Simon Schnellmann
Audience Award: «Today», Simon Schnellmann

A big thank you to all participants, guests, the jury, the hosts,
musicians, helpers, partners and sponsors of this competition.
from left to right: Kaspar Flückiger, Jürgen Haas, Jonathan Laskar, Stefan Hänni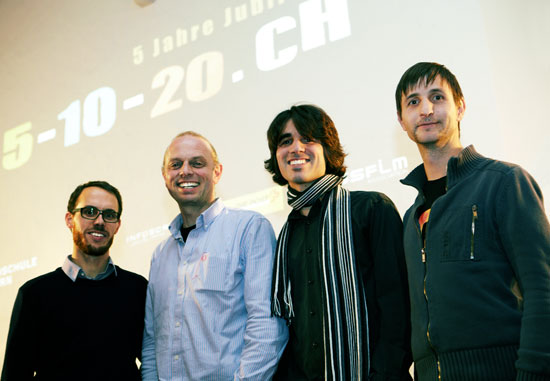 Anniversary award ceremony
10-11-2011
As announced, the anniversary award ceremony of the contest 5-10-20, 2011, will be held on the 16. November 2011 at 17:30 in Lucerne. We'll be celebrating our 5-year anniversary and have some surprises in store for you under the motto "Live".
Come over, be there, and find out!

Audience Award
For the first time, all visitors of the award ceremony will be able to give their vote – directly in the ceremony's location and for all categories – for the audience award. The prizes will be provided by eAdvertising. Thank you!

Live Jury
Furthermore, the last round of the panel of experts will also take place on location. This way, the audience can gain insight into the developing discussions over the qualities of the best entries. The pros and cons are weighed, the qualities of the entries and the differences between them compared. Which entry is chosen as the best, and for what reasons? See behind the curtains during the final decisions!

Host and music by the Kimm Group
The band Kimm (Philipp Z'Rotz - reeds, Marc Jenny – double bass, Emanuel Künzi – drums) will add to the evening's entertainment and provide an "energetic mix of Jazz, Bastard, Slivovic and Libertine", while David Roth leads us through the evening as host. There'll also be plenty to eat, snack and drink.

The event will take place in the Chapel of Rössligasse 12 in Lucerne, and is open to anyone who is interested!